| | |
| --- | --- |
| Culture and Art | |
| | |
| --- | --- |
| Mail service | |
| | |
| --- | --- |
| Counters | |
| | |
| --- | --- |
| The best site 2004 | |

Carl Fuks
---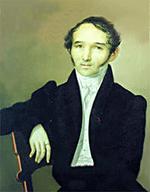 Carl Fuks was born on September 6, 1776, in the city of Gerborn. Since
1793 he studied at the local academy. In 1798 he received
university degree of the doctor of medicine in Marburg. Since 1800 he worked in
Saint-Petersburg as a practising doctor. In 1801 Fuks travelled over Russia
with natural-historical, in particular botanical, purposes.

In the autumn of 1805 he was appointed to the Kazan university an ordinary
professor of natural history and botany, and already from the very beginning
of the activity he paid amplified attention to statement of teaching of
natural sciences and to establishment of the appropriate
educational-auxiliary establishments of the university.

K.Fuks put the firm beginning to establishment at the Kazan university of
natural science and formation of young local school of naturalists. Except
for natural and medical sciences, he was interested in local olden time,
numismatics, ethnography, statistics and oriental studies; occupied
outstanding position as a practising doctor and philanthropist.

In 30s and 40s K.Fuks's house in which, with the participation of
his wife Alexandra Andreyevna, the local writer and poetess, literary
evenings were arranged, was the intellectual centre for all Kazan
intelligency. K.Fuks's house all outstanding persons considered a duty to
visit (M.M.Speransky, baron A.Gumboldt, baron Gakstgauzen, A.S.Pushkin,
etc.).

K.Fuks died on April 24, 1846, in Kazan, till the very death not leaving
scientific occupation and extensive extremely popular in Kazan medical
practice.
Traveller's view

Mon Mar 20
night / day:
°/°C
Tue Mar 21
night / day:
°/°C
| | |
| --- | --- |
| Central Bank rates | |
| Dollar USA | |
| Euro | |
| | |
| --- | --- |
| Navigation | |
| | |
| --- | --- |
| Search | |