| | |
| --- | --- |
| Culture and Art | |
| | |
| --- | --- |
| Mail service | |
| | |
| --- | --- |
| Counters | |
| | |
| --- | --- |
| The best site 2004 | |

Kovalevsky Nikolay Osipovich
---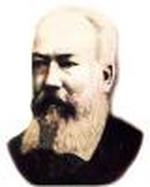 The Russian physiologist, founder of the Kazan school of physiologists.

N.Kovalevsky was born on May 8, 1840 in Kazan. After graduation of the
medical faculty of the Kazan university in 1862 he worked in Vienna. Then till the end of his life, Nikolay Osipovich occupied the faculty of physiology
at the Kazan university. Since 1878 the dean of the medical faculty, and in
1880-1882 the rector of this university. Continuing the experimental
direction begun by his teacher F.V.Ovsyannikov, he investigated reflex
connections between respiratory apparatus and blood circulation.

The new stage is connected with N.O.Kovalevsky's name in the development
of physiology at the Kazan university. During a quarter of century
(1865-1891) at the Kazan university - the only at that time in the east of
Russia higher educational institution - Kovalevsky successfully developed
the research activity devoted to development of fundamental problems of
physiology of blood circulation and breath, physiology and morphology of
nervous system, psychophysiology and biochemistry of blood.

In the 60s of XIX century N.O.Kovalevsky, the first of Russian
scientifists, began to develop physiology of breath, having created thus the
original design of the apparatus for research. The principle of action of
the apparatus was in gradual absorption by alkali of the carbonic acid of an
experimental animal. For the first time for definition of gas exchange the
method of the gas analysis was offered.
Traveller's view

Mon Mar 20
night / day:
°/°C
Tue Mar 21
night / day:
°/°C
| | |
| --- | --- |
| Central Bank rates | |
| Dollar USA | |
| Euro | |
| | |
| --- | --- |
| Navigation | |
| | |
| --- | --- |
| Search | |