| | |
| --- | --- |
| Culture and Art | |
| | |
| --- | --- |
| Mail service | |
| | |
| --- | --- |
| Counters | |
| | |
| --- | --- |
| The best site 2004 | |

Ravil Muratov
---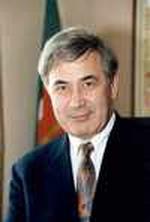 Muratov Ravil Fatykhovich

The first assistant to the Prime Minister of Tatarstan

He was born on August 30 1949 in state farm "Turnyasevsky" of Oktyabrsky
district of Tatar ASSR.

His labour activity began in 1964 as a forwarding agent of regional
consumers society. Then he worked as a mechanic-assembler. In 1983 he was
appointed the vice-president of board of Tatpotrebsoyuz on questions of
development of manufacture, processing, storage and sale of agricultural
production.

Since 1987 - minister of trade of TASSR, since 1989 - the vice-president
of Council of Ministers of TASSR, the assistant to Prime Minister of
Tatarstan.
Since 1995 up to present time - the first assistant to the Prime Minister
of Tatarstan.

Since 1996 Muratov R.F. 1996 heads the Board of directors of transnational
company "Ukrtatnafta".
During 1997-1999 he was the chairman of Board of directors of "KamAZ" PLC.
In 1997-2000 - the chairman of Board of directors of joint-stock company
"Tatincom".
In 1999 - the leading expert of the Centre of strategic development of the
Chairman of the Government of the Russian Federation V.V.Putin on
preparation of the program of development strategy of the Russian
Federation.

One of the authors of programs of rural gasification, liquidation of
shabby habitation.

He supervised over the development and realization of the governmental
programs on stabilization of oil recovery, on increase of efficiency of
oil-extracting branch and petrochemical complex of Tatarstan.

He is the author of the book "Going will master the road", of some
scientific monographies.

He has got "Mark of Honour", Certificate of honour, medals "In memory of
850-anniversary of Moscow", "300 years to the Russian fleet", "For
strengthening of fighting commonwealth", Peter's I Gold medal "For merits in
business of revival of science and economy of Russia" (from the
International academy of sciences), the certificate of honour of the Cabinet
of Ukraine.
Traveller's view

Mon Dec 11
night / day:
°/°C
Tue Dec 12
night / day:
°/°C
| | |
| --- | --- |
| Central Bank rates | |
| Dollar USA | |
| Euro | |
| | |
| --- | --- |
| Navigation | |
| | |
| --- | --- |
| Search | |