| | |
| --- | --- |
| Culture and Art | |
| | |
| --- | --- |
| Mail service | |
| | |
| --- | --- |
| Counters | |
| | |
| --- | --- |
| The best site 2004 | |

Nuriyev Rudolf
---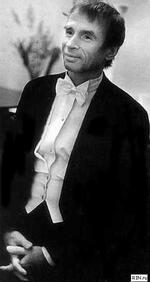 Rudolf Nuriyev was born in Siberia, in Irkutsk city far from the capital of the country. He started dancing very early: first, he danced in children's folklore ensemble, and in 1955 entered The Leningrad choreographic school. In 1958 Nuriyev graduated from it and then became a soloist of one of the main ballet troupes of the country n.a. Kirov.

R.Nuriyev left the USSR in June 1961 when together with the troupe of the Kirov theatre went on tour to Paris.

More than fifteen years Nuriyev was a star of the London royal ballet and was the constant partner of great English ballerina Margo Fontein. When they met, Fontein was 43 years old and Nuriyev - 24 years old, but their duet was, perhaps, one of the most brilliant for the last ten years.

Due to his activity a role of a partner-man became very significant and equal to a role of a ballerina. His dancing was not only expressive, but also very powerful.

A versatile talent of Nuriyev appeared not only in ballet, but also in cinema and TV. In 1972 was shot a dancing film, where he was the main hero "I am a dancer", and in 1977 Nuriyev acted in a film of K.Rasel, a famous director, he played a Hollywood actor Valentino. In spite of the fact that their biographies differed, there were some similar details one of which was that they were fanatics of dance. That is why some people think that in this film Nuriyev played himself. And to show the spiritual relationship of two outstanding actors, when Nuriyev died and TV channels said about it, they broadcasted shots of that film where the dancer showed dead Valentino.

Nuriyev turned out to be a not less talented director, he staged some classical ballets for different companies. In 1964 he staged even two ballets - "Raimonda" and "A swan lake", in 1966 - "Quixote" and "A sleeping beauty", in the next year - a ballet "A nutcracker", in ten years - ballets "Romeo and Juliet" and "A storm".

In 1982 the actor was admitted to Austrian citizenship, and last years Nuriyev lived in France as in 1983-1989 years he was a director of a Paris ballet troupe.

But all his creative and vital plans doomed to failure because of a terrible disease - AIDS.

The dancer left a stage, but didn't become isolated: it performed demonstration lessons, communicated with people, traveled a lot.

In 1990 he visited his motherland and the theatre where he started his professional career in Saint Petersburg.

In May 1992 R.Nuriyev twice debuted in Kazan - as a conductor of a symphonic orchestra and as a conductor of an orchestra of The opera theatre.

"My performances here are only because of Mr. Mukhametzyanova - a director of The opera theatre. He struck me when he offered to perform a concert any time, which is convenient to me and he said I could act in any role. And I felt that I could trust that person. And one more reason is that my mother was born in that city." - said Rudolf Nuriyev.

Meanwhile when he got to know that he was ill, he was very calm. Probably, he expected to recover with the help of his money and he started spending about two million dollars a year.

In the summer 1991 he felt worse. But at that time Nuriyev worried only about one thing, he wanted to stage 'Romeo and Juliet' and managed to do that. Then he went to France to have rest.

In January 1993 R.Nuriyev died. And in Kazan organized a festivel n.a. Nuriyev.

Since middle 90th the festival got the world popularity.
Traveller's view

Tue Dec 12
night / day:
°/°C
Wed Dec 13
night / day:
°/°C
| | |
| --- | --- |
| Central Bank rates | |
| Dollar USA | |
| Euro | |
| | |
| --- | --- |
| Navigation | |
| | |
| --- | --- |
| Search | |