| | |
| --- | --- |
| Culture and Art | |
| | |
| --- | --- |
| Mail service | |
| | |
| --- | --- |
| Counters | |
| | |
| --- | --- |
| The best site 2004 | |


Vasily Kachalov
02/11/1875
---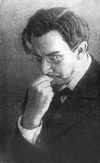 Vasily Ivanovich Kachalov (Shverubovich) was born on February 11, 1875, in the city of Vilnius, in the family of a priest.
In 90-s, being a student at the Petersburg University, he took active participation in amateur performances.

Vasily Kachalov came to Kazan in the fall of 1897. He supposed to continue his study at the juridical faculty of the Kazan State University and perform on Kazan stage.
Kachalov had performed for three seasons in Kazan. First - in small, not important roles. The critics as well as audience didn't pay any attention to his acting technique. But he learnt very quick from the talented actors at the Kazan theatre, and his acting technique developed. He was noticed and to the end of the season he played important roles. He had a born talent and professional presistance in work.

In 1900 Kachalov got an invitation from the Moscow Artistic Theatre. Before his departure, Kachalov gave his last farewell concert.

Kazan preserves memory about the favourite actor. The Kazan Bolshoy Dramatic Theatre carries the name of the great artist. On the house where Kachalov lived there is a memorial board.
V.I.Kachalov died on September 30, 1948.
Traveller's view

Fri Jul 10
night / day:
°/°C
Sat Jul 11
night / day:
°/°C
| | |
| --- | --- |
| Central Bank rates | |
| Dollar USA | |
| Euro | |
| | |
| --- | --- |
| Navigation | |
| | |
| --- | --- |
| Search | |