| | |
| --- | --- |
| Culture and Art | |
| | |
| --- | --- |
| Mail service | |
| | |
| --- | --- |
| Counters | |
| | |
| --- | --- |
| The best site 2004 | |


Elena Zhilina
04/27/1890
---
Zhilina Elena Efimovna

Comedienne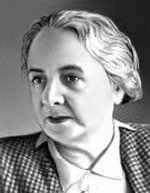 E.Zhilina was born on April 27, 1890 in Kazan. In 1992 she graduated from theatric studio in Kazan and entered the troupe of the Kazan Big Dramatic Theatre. In 1936-1942 she worked at Arkhangelsk theatre, since 1942 - again at the Kazan theatre.

E.Zhilina was great at comedic roles: Karaulova ("Smb else's Child" of Shkvarkin), Duenna ("Day of Wonderful Deceits" of Sheridan), Felizata, Domna Pantelevna ("Truth is good, but happiness is better", "Talents and Admirers" of Ostrovsky), Korobochka, Anna Andreevna ("Dead Souls", "The Inspector" of N.Gogol).

She was also very good at dramatic and heroic roles. She played Maria Nikolaevna ("Russian People" Simonov), Anna Nikolaevna Talanova ("Invasion" Leonov). One of her best roles was Lagutina in "Mother of her Children" of Afinogenov).

Her life belonged to the theatre. The theatre was a family, home, happiness and grief for her.

She died on January 29, 1963 in Vinnitsa.
Traveller's view

Mon Sep 21
night / day:
°/°C
Tue Sep 22
night / day:
°/°C
| | |
| --- | --- |
| Central Bank rates | |
| Dollar USA | |
| Euro | |
| | |
| --- | --- |
| Navigation | |
| | |
| --- | --- |
| Search | |