| | |
| --- | --- |
| Culture and Art | |
| | |
| --- | --- |
| Mail service | |
| | |
| --- | --- |
| Counters | |
| | |
| --- | --- |
| The best site 2004 | |

Zulfat Khakim
---
Date of birth: (01/01/1960)

Zulfat Khakim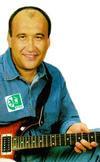 Zulfat is a biting writer-satirist, who doesn't recognize any authorities, a disturber of souls. He is known as a poet, who writes deeply philosophical verses, and a bard, whose songs impress human souls, and force us to think.

Due to his eastern tradition, he is unexposed and mysterious, while being smiling and sociable according to his European traditions. He is a fine and attentive interlocutor, whose presence makes time pass imperceptibly. He catches one's soul, perhaps, not even on purpose. His sincerity, melodical sound, and thought-provoking lyrics of the songs attract the audience.

Hearing even one of his songs, it is impossible to remain indifferent. His songs become necessary like the air we breathe. He is the author of eight books and released three laser disks with his songs. So, what's most important for him in his creative work - dramatic art, poetry, music, or songs? He combines everything perfectly. He is a philosopher, and his reflections help to learn, understand and accept him in his new condition.
Traveller's view

Mon Dec 11
night / day:
°/°C
Tue Dec 12
night / day:
°/°C
| | |
| --- | --- |
| Central Bank rates | |
| Dollar USA | |
| Euro | |
| | |
| --- | --- |
| Navigation | |
| | |
| --- | --- |
| Search | |