| | |
| --- | --- |
| OVERVIEW | |
| | |
| --- | --- |
| Mail service | |
| | |
| --- | --- |
| Counters | |
| | |
| --- | --- |
| The best site 2004 | |

Kaklagan (savory tenderloin)
---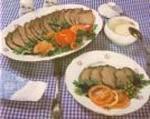 Ingredients:

160 g Beef tenderloin

5 g Adzhika

Garlic

10 g Dry Wine

Garnish:

50 g Fresh or salty tomatoes or

50 g Fresh or pickled cucumbers2

0 g Prunes

30 g Apples or grapefruits, oranges, lemons

4 g Greens

Directions:Rub the tenderloin with salt, garlic and adzhika. Sprinkle with wine. Marinate the meat for 24 hours in cold place. Preheat the oven to 150 C. The meat is cooked for 2, 5 - 3 hours, with meat juice regularly added. Cool the tenderloin before serving. Slice and serve with garnish.
Traveller's view

Fri Sep 29
night / day:
°/°C
Sat Sep 30
night / day:
°/°C
| | |
| --- | --- |
| Central Bank rates | |
| Dollar USA | |
| Euro | |
| | |
| --- | --- |
| Navigation | |
| | |
| --- | --- |
| Search | |