Night Life
---
Pages:
1
2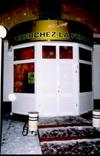 "Cherchez la femme" - A night club
Address: 111 Spartakovskaya Street, Kazan. tel.: 37-30-60
Work time: 22.00PM-05.00AM, every day.

A cheerful, natural and, at the same time, very cosy atmosphere that's what our club offers you. Funny competitions, different kinds of striptease, and dancing groups will entertain you! You could only dream of such evening. Rest and relax and you will not notice that it is time to go home, but don't worry, we are glad to see you every night!




Manhattan club - A bowling club
Address: 26 Parizhskaya Commune Street, Kazan. Tel.: (8432)92-96-91; 92-96-61
Work time: From 12.00AM and in weekends and holidays from 11.00AM till the last client.

A lot of entertainment of different kinds is represented here: bowling, two Russian 10-foot "RILEY" billiard tables, aerohockey, playing machines. In the nearest future we plan to open a Pro-Shop where you will find a wide assortment of accessories for bowling. There is also a bar and a disco floor in the club.




"Sahara", cafe-club
Address: 47 Pravobulachnaya Street, Kazan. Tel.: 92-43-81, 92-43-16
Work time: 22.00PM-5.00AM

Every day, except Monday, from 22.00PM till 5.00AM you can enjoy a dramatized disco program in catacombs of Egyptian pyramids. We refresh the program of our show 2 times a month. DJ Pioneer and Alex work for you every night. An entrance ticket costs 30-150 roubles. Nowadays in our club we have 4 dinning halls: "Sahara", "Atlantic", "Classics", "Marakesh", three bars and free-of-charge parking.




The centre of a club life - A night club
Address: 5 Frunze Street, Kazan. Tel.: (8432) 553131, (8432) 550622
Work time: 20:00PM-05:00AM.

A cosy hall with tables and sofas, two bars with a wide assortment of drinks and various cocktails. There are different competitions, prizes, free-of-charge cocktails, prizes from sponsors, jokes, dancing groups, striptease.
On Wednesday a ticket costs 80 roubles and you can take one litre of "Klinsky" bear in a bar. On Sunday up to 23.00PM men can't enter the club, a ticket for girls costs 50 roubles and every girl can choose any cocktail in a bar. The programm is called "A night of careless women".




Arena - This disco club is a heart of Kazan night life.
Address: 17 Pushkin Street, Kazan. Tel.: 38-77-76.

The biggest dance floor for 1200 people, 15 кВТ JBL sound, the best club shows of the city, ultramodern laser setting, 4 bars including ALLDRINKBAR and BEERBAR, American and Russian billiards. And that's not all - casino, restaurant, Japanese restaurant, fisticuffs, disco parties for children and all this is in one club.




Gentleman club
Address: "Safar" Hotel, Kazan. Tel.: 43-97-72
Work time: 21:00PM-3:00PM

Alive music, saxophone, violin, wonderful shows, dancing droups, ball dances, Gipsies, hot erotic show, exotic cocktails. All erotic dreams come true here! An entrance ticket costs 300 roubles.Pages: 1 2