Population
---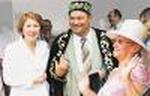 The population of Kazan numbers 1085000 people

Density of population: 55,6 people/sq. km

Dynamics of growth per 1000: Birth rate - 10,4, Death rate - 12,93, Migration growth - 4.0.

Major ethnic groups, according to the data of census of 1989, are the Tatars (over 48,5 per cent), the Russians (43,3 per cent), the Chuvashes (3,7 per cent). Besides, the Mordvinians, the Udmurts, the Mari, the Bashkirs live in the territory of the Republic.