| | |
| --- | --- |
| OVERVIEW | |
| | |
| --- | --- |
| Mail service | |
| | |
| --- | --- |
| Counters | |
| | |
| --- | --- |
| The best site 2004 | |

Kazan - the Capital
---
Pages:
1
2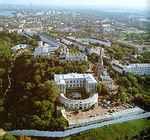 The capital of Tatarstan republic - city of Kazan is situated in the northwest of Tatarstan. The city is stretched along two banks of Kazanka river - at the place of its conjunction with the Volga river.

The population of Kazan is more than 1.1 million people. The main body of legislature is Kazan State Council. The executive power is carried out by the Administration. The head of the Administration - Iskhakov Kamil Shamilievich.

The capital is a large railway, highway and aviation unit, the largest port on the Volga river.

In 2001 the volume of industrial production of the city was 40.4 milliard rubles or 127.4% of the prices of 2000. The index of physical volume of production was 110.3% (compare: in the republic of Tatarstan - 106.7%, in the Russian Federation - 104.9%).

The leading branches of the industry in the city are machine-building and metalworking, aircraft and device-making, chemistry and oil chemistry, light and food industries.

The city manufactures: helicopters, planes, compressor and refrigerating equipment, polyethylene, sinthetic rubbers, medical and optical devices, washing powders, medicines. One of the leaders of the Russian food industry is "Krasny Vostok", PLC, brewery concern.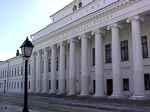 Kazan - large centre of science of Russia and Tatarstan. The third in Russia, after Moscow and Saint-Petersburg, the Kazan state university was founded. In total in the city works 30 higher educational institutions, the Academy of sciences of Republic Tatarstan and the Kazan Centre of Science of the Russian Academy of Sciences, network of scientific research institutes.Pages: 1 2

Traveller's view

Fri Sep 29
night / day:
°/°C
Sat Sep 30
night / day:
°/°C
| | |
| --- | --- |
| Central Bank rates | |
| Dollar USA | |
| Euro | |
| | |
| --- | --- |
| Navigation | |
| | |
| --- | --- |
| Search | |