| | |
| --- | --- |
| OVERVIEW | |
| | |
| --- | --- |
| Mail service | |
| | |
| --- | --- |
| Counters | |
| | |
| --- | --- |
| The best site 2004 | |

Zur balish
---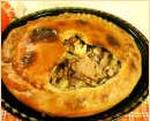 Ingredients:

600 g Flour

150 g Water or Milk

33 g Sugar

120g Melted Butter

80 g Eggs

Salt

Minced meat:

900 g Beef or

900 g Goose or

900 g Duck or

900 g Lamb

1500 g Potatoes

Melted Butter

Onion

Salt, Pepper to taste

Broth

Directions:

Make unleavened dough and divide into two parts. Roll out one part of dough into sheet of 4-5 millimeters thick and put on the frying pan, greased with fat. Put minced meat in the middle of dough. Then roll out the other part of dough, cover balish. Make a little hole in upper flat cake and pour broth into it. Bake in the oven for 1,5-2 hours.

Minced meat: cut meat and potatoes into small pieces and mix them. Add onion, salt, pepper and mix.
Traveller's view

Fri Sep 29
night / day:
°/°C
Sat Sep 30
night / day:
°/°C
| | |
| --- | --- |
| Central Bank rates | |
| Dollar USA | |
| Euro | |
| | |
| --- | --- |
| Navigation | |
| | |
| --- | --- |
| Search | |