| | |
| --- | --- |
| OVERVIEW | |
| | |
| --- | --- |
| Mail service | |
| | |
| --- | --- |
| Counters | |
| | |
| --- | --- |
| The best site 2004 | |

Republic Day
---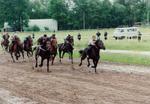 One of the most important holidays is the Republic Day, celebrated on August 30th. On his day in August of 1990, Tatarstan on behalf of its multinational people proclaimed the Declaration of National Sovereignty. Thus, Kazan became the capital of the sovereign presidential republic. The declaration of independence has been checked by time, and the republic has avoided deep interethnic disagreements and contentions that took place in other parts of the former USSR.

In 1992, people of the republic again supported the idea of Tatarstan sovereignty. The referendum results have shown that 61,4 percent of voters were in favor of sovereignty. Due to its wise and reasonable policy, Tatarstan was the first among the former republics of the USSR to adopt its new Constitution in 1992. This resulted in a bilateral agreement with Russia, which was signed in 1994. Kazan became the first capital, which had such an agreement with the federal government.

The Republic Day reflects its ancient customs and holidays and Kazan's new face. People come to the central stadium, located on the place of the ancient Tashayakskaya fair, to see the celebratory performance that presents historical traditions like horse race, national wrestling, and fanciful national contests, for which the old holiday sabantuy - "the holiday of plough" - is famous. Though sabantuy is celebrated at the beginning of summer, why not having another celebration of the holiday in August, when harvest season starts?

The Republic Day is our memory of the past and trend into the future. The unique multinational culture of the city shows itself in all its colors on this holiday. Magic presentations of Kazan Fashion Theatre "Lik" go one after another on the green arena of the stadium. The spectators are also offered open-air dramatized history presentations and performances of ensembles playing ancient musical instruments.

Many people come to see the Republic Day celebration. Such masses of people could only be seen on May Day celebration and November demonstrations in Soviet time. In addition to Tatars and Russians, Kazan is the place of historical residing of other nations such as Chuvashs, Maris, Udmurts, and Mordvas. Representatives of more than 70 nationalities are found among inhabitants of Kazan. The Republic Day brings them together to celebrate the holiday, which reflects people's hopes, national settings, and daily life. On this day, Kazan stadium is filled with the rainbow of national colors, patterns, ornaments, customs, and traditions. The music and national song melodies, heard on the streets of the celebrating city, bring joy and happiness to the city people's hearts. National dances on the streets tell about the remarkable history, marvelous legends, and dreams of the capital.
Traveller's view

Thu Jan 26
night / day:
°/°C
Fri Jan 27
night / day:
°/°C
| | |
| --- | --- |
| Central Bank rates | |
| Dollar USA | |
| Euro | |
| | |
| --- | --- |
| Navigation | |
| | |
| --- | --- |
| Search | |