| | |
| --- | --- |
| OVERVIEW | |
| | |
| --- | --- |
| Mail service | |
| | |
| --- | --- |
| Counters | |
| | |
| --- | --- |
| The best site 2004 | |


Only 5 Liters For A Car? Can`t Be So!
08/02/2005
---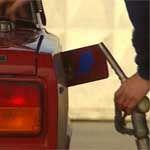 Some drivers had been waiting for august 1 hardly breathing. There had been rumors that the gas would be given only in the amount of 5 liters to every driver since the beginning of the month. But the morning of this Monday brought another surprise and not a good one: there was still gasoline available in any amount, but 60-70 kopecks more expensive than recently.
Car drivers are indignant: too much rise for such a short time and gas limitations being still possible to occur.
So, once again, people ask the government - for whom they make this big holiday? Not for common people for sure! Officially nobody's going to limit the sale of gasoline, but what is heard not officially:
- evidently the gasoline stations in the centre will be closed; if there is a shortage of gas, the station workers can always blame the late delivery.

Actually there is sense in all what's being done here, but no sense for common people which are often unofficially asked to leave the city for august.
Traveller's view

Fri Dec 1
night / day:
°/°C
Sat Dec 2
night / day:
°/°C
| | |
| --- | --- |
| Central Bank rates | |
| Dollar USA | |
| Euro | |
| | |
| --- | --- |
| Navigation | |
| | |
| --- | --- |
| Search | |