| | |
| --- | --- |
| OVERVIEW | |
| | |
| --- | --- |
| Mail service | |
| | |
| --- | --- |
| Counters | |
| | |
| --- | --- |
| The best site 2004 | |


Soon Thousand Years. What Do We See?
08/03/2005
---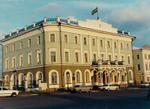 The major of the city of Kazan speaks to his compatriots:
'Only one month is left before this great holiday. Of course we can't finish all works in time, but most of them have been done. The most complex object is subway. We have accepted in exploitation 4 stations, 5th is coming. The second by significance object is race track. Not long ago there were races which showed that our race track is in good condition and complies with all international standards.
At the same time the works on Peterburgskaya Street are at the highest point. The vice-major of Saint-Petersburg will come tomorrow and see the street.'

So, Peterburgskaya Street is being made in the honour of the most beautiful city in Russia - Saint-Petersburg. And it's being made for money from SPb by the way.
We have also Kirov Street which was quickly renamed in Moskovskaya, but Moscow is not in a hurry to give us money for renewing the street named in its honour or to fully redecorate this street itself. So, workers will have to put big banners and hide this one of the ugliest streets in Kazan, which was one of the nicest streets before they ruined practically all of it.
Traveller's view

Sat Dec 9
night / day:
°/°C
Sun Dec 10
night / day:
°/°C
| | |
| --- | --- |
| Central Bank rates | |
| Dollar USA | |
| Euro | |
| | |
| --- | --- |
| Navigation | |
| | |
| --- | --- |
| Search | |