| | |
| --- | --- |
| OVERVIEW | |
| | |
| --- | --- |
| Mail service | |
| | |
| --- | --- |
| Counters | |
| | |
| --- | --- |
| The best site 2004 | |


`Millenium in the sky` was amazing.
08/31/2005
---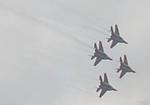 At 6 pm 6 supersonic fighters MIG-29 started to fly above the Kazan Kremlin and Kazanka river making the most popular aviashow. That was the most famous avia group "Strizhi" (Swifts).

The pilots showed their high skills and synchronization in all aerial stunts.
They were flying in rows in just few meters from each other. All people of Kazan and the guests of the capital were amazed by this show.

Showing their perfect acrobatics the planes went to the airbase.

5 minutes later there appeared 5 heavy planes SU-27 of 237 Centre of Aviatechnics Show of Kurbina aviabase. It was very famous Russian Knights aerobatics team ("Russkie Vityazi"). The planes were much bigger than those of the previous group, so it seemed as if they come much closer to the earth.

Russian Knights showed even more masterpieces of aerobatics, all in perfect synchronization with all planes.
That was really an incredible airshow.
Traveller's view

Sat Dec 9
night / day:
°/°C
Sun Dec 10
night / day:
°/°C
| | |
| --- | --- |
| Central Bank rates | |
| Dollar USA | |
| Euro | |
| | |
| --- | --- |
| Navigation | |
| | |
| --- | --- |
| Search | |