| | |
| --- | --- |
| OVERVIEW | |
| | |
| --- | --- |
| Mail service | |
| | |
| --- | --- |
| Counters | |
| | |
| --- | --- |
| The best site 2004 | |


1000-year celebration expenses
10/10/2005
---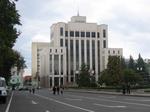 On building and reconstruction for 1000-year celebration of the capital of Tatarstan - Kazan city during last 5 years they spent 81.3 billion rubles from which:

-12 billions were given by the Russian Federation budget.
-38.6 billion rubles were taken from the Tatarstan republic budget,
-35.7 billion rubles were given by investors.

This is what Marat Khusnullin, the minister of building, architecture and housing economy of Tatarstan republic, said yesterday.
He said that more than 70 significant for city objects were built and reconstructed, more than 100 front sides of buildings were renovated, thousands meters of road covering were repaired, some new roads were made, the city infrastructure was significantly improved.

At the account of investors, such objects were built: "Kazan-1000" (Tatneft, PLC), "Sovet" hotel (Krasny Vostok, PLC), "Native village" restaurant complex ("NUR-auto, LLC), restaurants at the embankment of Kazanka river etc.

The following companies helped to reconstruct the territory of museum-reserve "The Kazan Kremlin": "Tatneft", PLC, "Nizhnekamskneftekhim" PLC, "Kazan Helicopter Factory" PLC.
Traveller's view

Sun Aug 25
night / day:
°/°C
Mon Aug 26
night / day:
°/°C
| | |
| --- | --- |
| Central Bank rates | Aug 24 2019 |
| Dollar USA | |
| Euro | |
| | |
| --- | --- |
| Navigation | |
| | |
| --- | --- |
| Search | |